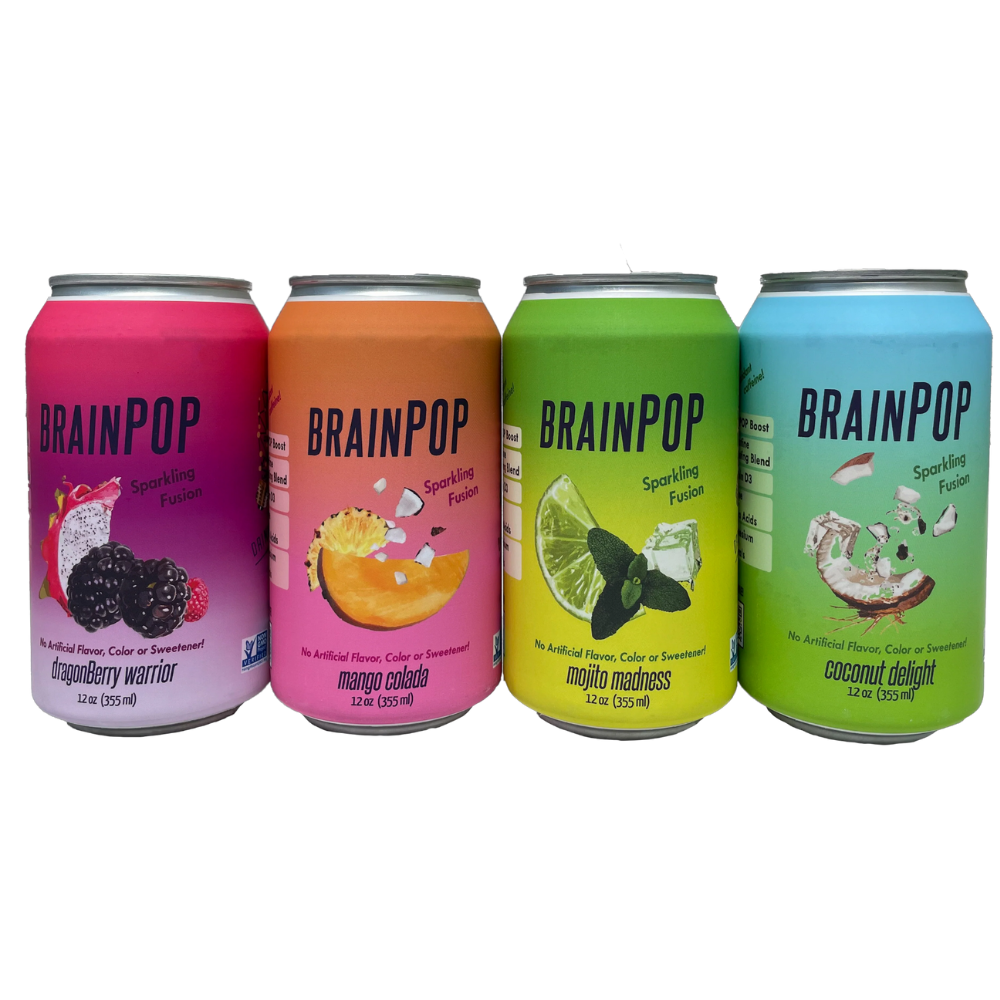 Whats Inside?
Each can of BrainPOP has a botanical caffeine blend, 4 amino acids, vitamins, minerals & a hydration cocktail with Vitamin D. This product is designed with thought and care.
We use fruit purées that leave a fresh burst of fruit in your mouth, purchased from a family-owned business in the Midwest, that runs with the highest trade standards in how it treats its farmers around the globe.
With only 6-10g of sugar per 12oz serving, this product makes caffeine-fueled energy rewarding and brain nutrition tasteful!
This product has no preservatives, sweeteners, or artificial flavors or colors. We use organic ingredients wherever possible.
We want the next generation of beverage-drink consumers to enjoy a lightly-flavored, delicious drink that refreshes and delights them.
Super Hydration Cocktail
L-Theanine

L-theanine, a natural constituent of tea and partial co-agonist of the N-methyl-D-aspartate receptor, has been shown in a clinical trial to improve standardized scores relating to depression and anxiety compared to placebo, and to significantly improve verbal fluency in people with low baseline fluency. In another clinical trial, it appeared to improve participant's reported sleep quality.

Potassium

Potassium is an essential electrolyte that is critical to everyday heart and brain cell function.  Abnormal levels of potassium can lead to many disorders, from cramps to paralysis and dangerous cardiac arrhythmias.  Dietary supplementation with potassium appears to be protective against stroke in women.

Learn more: here

Taurine

Taurine is an amino acid expressed in various areas of the body including the brain, where it is essential for normal development and may improve neuronal growth and synapse formation. In addition, it appears to be immunomodulatory and beneficial in a clinical trial of patients with severe traumatic brain injury.

Caffeine

Caffeine, if consumed at levels of less than 400mg daily (or 200mg in one sitting) is not harmful, and can increase alertness, well-being, and concentration.  Lifelong caffeine consumption has been linked to lower rates of cognitive decline and reduced risk of stroke, Parkinson's Disease and Alzheimer's disease.

Learn more: here
BrainPOP Boost
Caffeine Anhydrous; Green Coffee Beans

Green Tea Leaf

Guarana Seeds

Taurine

Magnesium Citrate

Choline Bitartrate

L-Glutamine

Vitamin D3